Have you ever watched the car chasing scenes in a movie where the hero drives his posh Lamborghini in front of the villain opposite to him in reverse gear? It is such an adrenaline moment and very exciting right! Because that is rare in a chasing sequence. And, exactly, sex drive gives the same adrenaline rush of people where some of them try such rare adventures to match the rush and to explore the depth of the art. Commonly, most humans see sex as a basic need, to portray love, to fulfill lust, to experience the physical desires and most importantly to focus on making babies. But, there are very few people, who view, sex as an adventure game in which they want to clear the maximum levels they can reach and they always end up committing rare things and enjoy the rare results.
To sex, this rare factor comes with some rare positions. Many sex positions are commonly applied to people regardless of gender and sexual orientations. Some are classic, basic and easy to practice and some are advanced and need extra efforts to practice. And there comes the third category, which is rare and difficult. If you think, you are done with all kinds of sex practices, positions and behaviors, it is high time to try some of these rare positions. The interesting fact is these positions must be practiced in a reverse way.
Most of us are aware of this Classic and sexy position called "Cowboy" or Cowgirl", where a man or a woman ride on the manhood of his/her partner like riding on a horse. Generally, in this position, according to gay sex, a bottom gay guy by facing his partner, sits on the penis of a top gay guy by inserting the manhood in his butt hole and start moving up and down, in the process of penetration, which feels exactly like riding a horse. Hence, the position got named Cowboy in gay sex positions. To add an extra flavor, this position can also be practiced in a reverse manner, where a bottom guy sits on the manhood of his partner by facing opposite to him and gives full submission of his whole back body and also allowing his partner to grab his butt cheeks to hold perfectly for penetrating his butt hole. This is treated as something intense and we call it "Reverse Cowboy position!"
As people became so experimental, even this position has become basic to many of us. Now, there come the rare and difficult positions in which a person has to focus on every single inch of his body to engage physically with his partner. These positions can be tried by any person who loves penetrating and getting penetrated anally. Straights, Gays, Bisexuals and even lesbians with a strap-on (s) too! Remember, sex is an endless experiment?
Reverse Bronco:
Do you know what does bronco mean? A wild horse that is rough and rude. The name itself suggests how wild, the sex position is going to be right! Still, bronco position is rare, hence the addition of reverse effect makes it rarest. Yes, indeed it is.
In terms of gay couple sex, an interesting fact is, the guy who penetrates sleep on his stomach on a floor or a bed or a couch in a resting mode. Are you wondering, how that person penetrates? That's what makes this position, rare! Here, the whole adventure depends on the bottom guy, who himself gets penetrated by thrusting his partner's penis in his butt hole and ride on it. Now, this is difficult. Because the lying partner's erected manhood should be taken inside of the hole of the bottom guy in an exact reverse way. For this, the bottom guy must hold the penis of his partner and thrust into his anus by sitting on the butt cheeks of the top guy. Yeahhhhh.... Seems difficult right. It's just a rare sex experiment and only a few can attempt.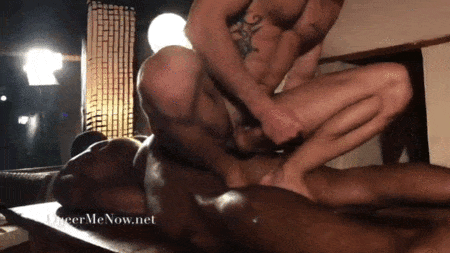 Reverse Wheelbarrow:
Google the images of Wheelbarrow. You must have already seen this little cart which is mostly used in nurseries to pick up plants in it or to drop fertilizers from it. One side with wheels and another with a handle, this cart needs support. Now imagine, reversing this cart!
According to gay sex positions, this is one of the rare and difficult positions to practice. A person must be fit enough and hold himself to properly get into action by following it. In this position, with the support of a wall or any vertical surface, a bottom guy must take a handstand position, by completely facing his body back to his partner's facing body, allowing him to penetrate his butt hole with the erected penis. It seems easy to describe, but sort of difficult in practice. Because being in a handstand position is an energy straining act and getting penetrated comes with pleasureful pain. The role of a bottom guy is splendid in this position. By supporting his whole body on hands and lifting all the way opposite to the floor to submit his anal area to his partner to have experimental sex is difficult. Here, the top guy must hold the legs of his partner with his hands for perfect hold and angle to insert his penis in a downward way in the warm butt hole of his partner. It is way more erotic and sensual enough.
Rare things always come with risk factors. The same applies to these two positions too. Holding capabilities and flexibility are more important to pull off these rare positions. Only a completely healthy man, who is good with all the body muscles can perform sex in these positions. Pelvic muscles of a top guy (one who penetrates) must be handled with care in the Reverse Bronco position and anal muscles of a bottom guy (one who gets penetrated) must be relaxed completely in the Reverse Wheelbarrow position. If you focus properly and hold yourselves with strength and stamina, you can be successful in committing these sexual experiments. Usage of lubes, condoms and sometimes saliva can make your penetration smoother.
So, plan to include either of these rare positions to try in your next sensual sessions. Always remember one thing, do not rush into rare things without dealing with the basics. Wait for a fruitful time and appreciate the world of sex with utmost sensuality. Sex life gets better if you take things slower.
#everydayqueerlife #towardslove #sexlifegoals #gaysex #sexpositions #sexeducation